Welcome to Retrac Skips. Specialists in Skip Bin service on the Gold Coast since1993.
We are a Labrador / Arundel based family company operating Skip Bins locally on the Gold Coast since 1993.
The success of our business is providing an excellent skip bin service as an alternative to other waste and rubbish removal methods. 
Our licensed weighbridge and undercover transfer station is open for commercial waste operators to use.
Our friendly staff are able to advise you about your waste management requirements.
Recycling Process
Our recycle process was developed from a concept to reduce the volume of materials going into landfill. The world's landfill sites are filling at an alarming rate and the only way to reduce this is to reuse and recycle
Removal of the waste from your site is the the beginning of our recycling procedure.
All materials are brought back to our transfer station for processing.
Some recovered byproducts from the recycling process include scrap timber, electrical cable and different metals. These are sent to specialist collection facilities for recycling.
At RETRAC, we are at the forefront of recycling. We are constantly seeking new innovations and quality methods.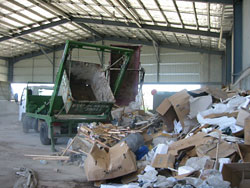 Transfer Station
RETRAC Waste operate a licensed commercial weighbridge and licensed transfer station on the Arunde premises. 
We accept and process commercial waste.
For commercial waste operators, consider using our undercover facility.  Ask about our competitive tipping rates.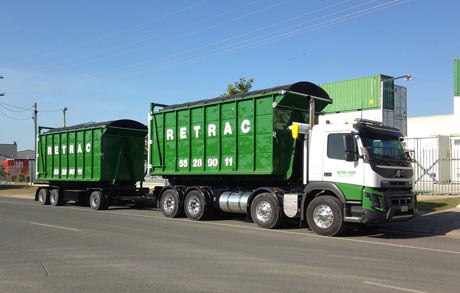 What is a skip bin?
Skip bins are known by various names: skips, skip bins, waste skips, mini skips, skip hire, hook lifts and more. Bins also come in different colours: pink bins, green bins, purple bins, white bins. 
Our bins are green to remind us about the obligation to nature and the environment in the waste management process.
We provide 2 type of bins in our service.
Skip Bins. Lift on and off with a chain lifter
Hook Bins. Drag onto the truck with a hydraulic hook lifter 
The introduction of skip bins has proved to be a great innovation to the domestic cleanup solutions and building trades and rubbish removal industries.